Last week
post
or
something else
instead.
What else I've learned this week not within this post?
Going through the fifth week of ornamental fish culture on fish breeding specifically in live bearer; e
ggs scatterer and eggs depositor;
b
ubble­‐nest builder and mouth‐brooder. The review paper of this week is
the study of e
ffects of photoperiod on reproduction of Siamese fighting fish, Betta splendens.
The week was concluded with a Perl module review of API::Google.
How do you pick the best traits to breed Betta sp?
If you watch the video below, typically it will take a few generations (if you're lucky) to obtain the good traits to develop a good line. How long? Roughly 4 generations which is around 2 to three years, provided that these broodstock reach maturity around 6 months and you've a quality traits to choose from.
Which show has the best NBA commentary?
The Jump, the weekday daily discussion and debate show in ESPN on NBA. Compare to other NBA commentary shows,
Rachel Nichols
did a wonderful job setting the pace and keep the discussion going on. Commentary was always to the point and the viewer can always learn something new from the guests.
Tracy McGrady
and
Jackie MacMullan
combo was great with healthy debate.
How to improve your Bash-fu?
Do everything in
pure Bash
. The main issue with shell script or terminal is we have too many choices and too many legacy baggages. Does having a software monoculture solve the issue with decision fatigue? Yeah, in some ways. I've been using Zsh for a while and there are some quirks that need some times to adapt to.
How to be successful?
(via
HN
) Always debatable and subjective as certain things can be measurable (financially) or not (relationship). Perhaps when you have enough and be content, "
moderation in all things.
" Or being healthy in term of physically and
mentally
. Maybe
you can do what ever you want to do
? Why not just read the
opposite
, advices from people who are not successful instead? When comes to advices, be careful of the
survival bias
. Maybe
there is no such thing as success
, a donkey is successful as a donkey.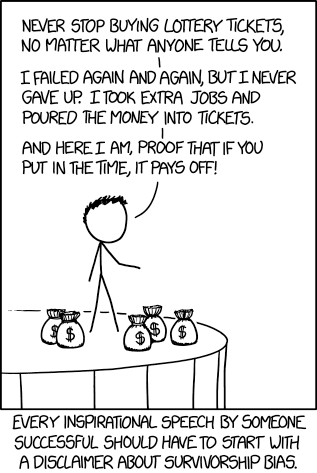 Maybe reading through
what people say before they die?
(via
HN
) will let us reevaluate our definition of success. Nevertheless,
this quote
caught my attention when come to your own career. However, if you still love what you're doing after so many years, effectiveness is just the side effect.
"You don't want to be in a career where people who have been doing it for two years can be as effective as people who have been doing it for twenty—your rate of learning should always be high."